When driving around Kansas City, you may notice many different home styles, especially in the more historic parts of town. Kansas City has lots of history and the architecture of the houses is no different. However, in this part, we're going to start on the outskirts of Kansas City and describe the most popular suburban architectural styles of homes. 
Ranch
Ranch-style homes are single-stories and wide with a low-pitched roofline. These homes have a garage in the front, are usually built from brick or wood, and contain large living areas. Ranch-style homes first appeared in the 1920s and became extremely popular from 1940 to 1970. Today, it's still one of the most desired home types.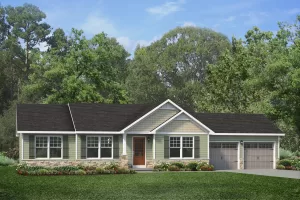 Photo by: https://www.finelinehomes.com/everything-ranch-homes/
Split-Level
Split-level homes are classified under the ranch style, so they share many similarities, like low-pitched roofs and large living areas. Split levels have three or more levels to the house. Typically, walking into a split there will be a living space and kitchen. From this main living space, there will be two half flights of stairs, one leading to the bedrooms and the other leading to the basement. Split-levels have been a popular option since the 1960s but aren't being built as much now.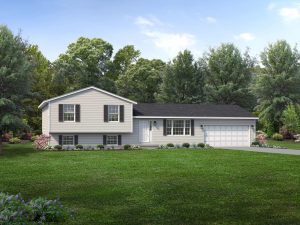 Photo by: https://waynehomes.com/our-homes/floor-plans/lexington/
Bi-Level
Bi-levels and split levels often get confused, but the main difference is that bi-levels only have two levels. They have a small landing pad at the front door, that has half a flight of stairs leading to the living room, kitchen, and bedrooms and another half flight of stairs going to the basement. Again, this type of home is classified under the ranch style and shares many characteristics.
Photo by: https://www.martellhomebuilders.com/portfolio/richland/
Traditional
Currently, traditional-style homes are the most popular. They don't stick to a specific style, instead, they are a hodgepodge of architectural styles and are inspired by tradition. Common details of these homes are simple rooflines, modest details, and symmetrically placed windows. They are usually two stories and are built using stone, stucco, and brick.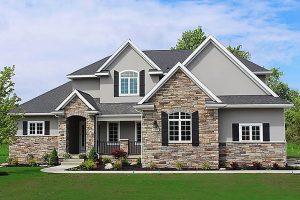 Photo by: https://www.floorplans.com/plan/2495-square-feet-4-bedroom-3-5-bathroom-3-garage-country-35138
Each home style has its pros and cons and attracts different types of buyers. And in Kansas City, you will find these styles mostly in the suburbs like Blue Springs, Belton, Olathe, Overland Park, Lenexa, Lee's Summit, Liberty, and more. Part two will cover the more historic parts of Kansas City, so stay tuned!
Featured Image
Photo by Max Vakhtbovych: https://www.pexels.com/photo/empty-backyard-of-cottage-house-5997996/